The headline is a bit vague, but if you read the whole article at Kammepcaht, you will understand.
READ ARTICLE Right click on the page and hit translate.
It looks like the Ukraine is about to split right down the middle. The only hope otherwise is for the new Kiev government to back away from its obsession with the EU and make up to the Russian population living in eastern Ukraine.
So, back to Ezekiel 38. Eastern Ukraine, if it federated with Russia, would make one long stretch in the road to Jerusalem secure for Gog and Magog. It is so very delightful to be watching as we wind down to the soon return of the Lord Jesus Christ to reign in Jerusalem.
So, what should be watch for next, that is, if these events now are really part of Ezekiel 38.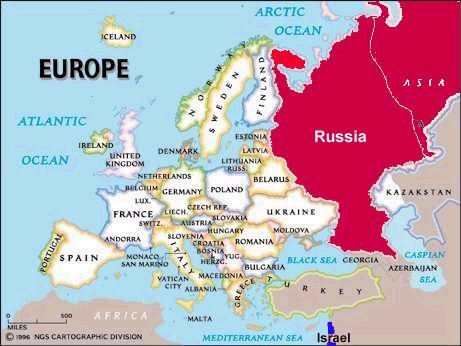 Russia has to pass through Turkey. So, watch for a falling out of Turkey with the EU. This could send the Turks into the arms of Putin.
Watch for Putin to keep Syria strong and the US slobbering over the rebels who are virtual cannibals. This should end very badly for the US, and the man who is in the White House will change nothing.
Watch for Netanyahu to give more hugs to Putin and more slaps to Obama.
Watch for Cypress and Israel to cut deals to sell their natural gas in the Mediterranean Sea to the EU in return for support in Jerusalem's deals with Russia.
Watch for Putin to calm the waters with Iran and send the USA packing. Netanyahu may actually smile for a change.
Watch for Libya and Egypt to go to Russia for a rescue arrangement.
Watch for Ethiopia to move toward Russia.
Watch for a love / hate relationship to develop between Russia and China. Love? Right, as they seek to destroy the US power in the world. Hate? Again, as they both look at the Middle East hoping to control it.
Watch for Germany, Gomer in Ez. 38, hug Russia while the EU cowers back and trembles.
And, the USA?
A fellow called me last night and tried to convert me to his "America is Babylon" religion. Beware of this stupid End Times doctrine. It is great error, just short of heresy, and it could cause you to come to a very stupid conclusion when the USA crashes soon. The USA is nowhere in Bible prophecy. Get used to it, and start looking at the Middle East and Bible nations for your news and prophetic hope. Jesus is NOT going to set up his Kingdom in Cincinnati, Ohio.
Watch for God to enter in with some sort of disaster for America to make sure this nation is out of the End Times picture.
Watch for this blog to be pulled down by someone if I keep teaching Bible prophecy in a literalist fashion.
So, for now, they line the road to Jerusalem and sing, "Putin, come! People help me!"
Putin will come, at least that is how I see it.
Again, for all ye NSA and Federal snoops. This blog is NOT anti-American. I am simply telling the world what the Bible teaches about the future. Go ahead, fight it..... God will have his will in the end, and you guys will look like fools. Sorry about that.