LIBERIA TRIES TO CAGE WEST POINT BY BRUTE FORCE >>>
EBOLA IS KILLING OFF THE MOST EXPERIENCED HEALTH CARE WORKERS
This means that new workers will be very frightened to enter the battle. Also, foreign health care volunteers now know they may be volunteering to die of Ebola. There will soon be a turning point of no return when health care workers simply flee in all directions. Committing suicide is too much to ask. These people have wives, husbands, and kids. It is too much to ask them to kill themselves for Ebola. But, the result will be no health care, and whole nations could be infected in a few months.
Ebola cases could exceed 20000 before outbreak stemmed: WHO
Times of India
GENEVA: The World Health Organization on Thursday said that it aimed to reverse the spread of Ebola within three months, but warned that the caseload in West Africa's epidemic could eventually top 20,000. In a new anti-Ebola plan, the UN health agency …
Deadly Ebola outbreak could infect tens of thousands
Inland Empire News
THE NUMBERS ARE GOING WILD, AND THERE IS A PLAN BUT NO ONE TO MAKE IT HAPPEN.
EBOLA VIRUS MUTATING
This means that a drug and vaccine are in great doubt. Big Pharma is shooting at a moving target.
BRITISH NURSE GETS EBOLA FROM CHILD WHO TESTED NEGATIVE
This proves that the myth by the CDC that Ebola will not pass from a negative tested person to someone else is a lie. I suspected this. The problem is, there are false negatives, AND this is a new mutant form of Ebola. The old rules do not apply.
THE CDC TRIES TO DISCONNECT CONGO FROM WEST AFRICA
This is nonsense. The people of Congo, AND all the people of West Africa, AND Africans from Capetown to Cairo eat "bushmeat". That is, wild caught or hunted meat. And, they do this regularly. So, the real issue is why Ebola hit in Congo just after in West Africa.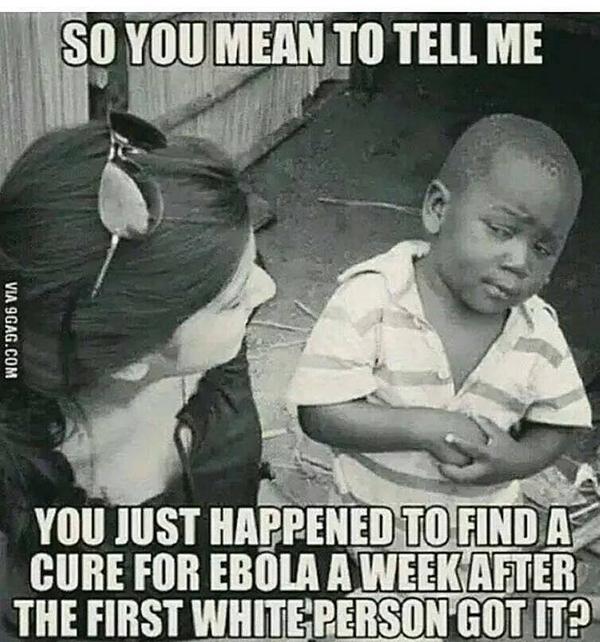 At least that many. I suspect the CDC is really out of touch on this one. Communications from the interior, the bush country, are falling apart in the three worst hit nations. So, the numbers may be much higher. Also, many health workers have abandoned their posts, and some of them may have died.
THIS IF FROM THE FRONT LINE:
HERE IS A COMPLAINT ABOUT MEDIA HYPE AND CONCERN FOR THE WRONG THINGS
REGULAR HOSPITAL TREATMENT DISAPPEARING IN LIBERIA DUE TO EBOLA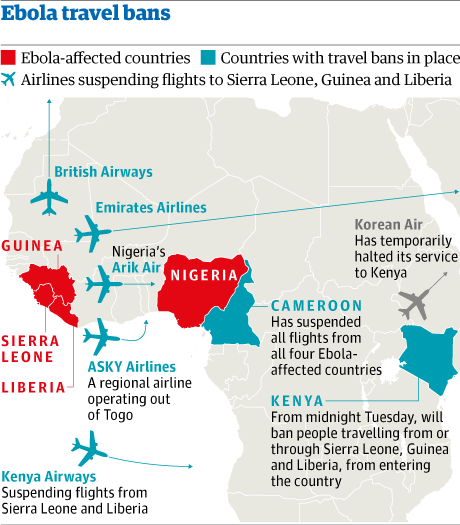 THE WHO/UN IS TRYING TO CONVINCE AFRICAN NATIONS NOT TO BAN FLIGHTS
This same WHO will encourage all developed nations to stop flying to infected nations. When it is Wogs infecting Wogs, well, a little risk is OK. The WHO claim that flying is safe is a bold faced lie and designed to kill off Africans and spread the infection within Africa. Ask any airline pilot how he feels about this nonsense. The air in an airplane is recirculated, and no fresh air is brought into the plane. Also, airplane wash rooms are small and get very contaminated. If you never fly, well, you may believe the WHO if you like. I have been on a 14 hour flight to Australia, and it got VERY gamey my friend, and the restrooms were pretty tacky by the end of the flight. WHO are murderers. NOW, LOOK AT WHO SAYING KENYA WILL BE HARD HIT BY EBOLA BECAUSE IT IS A TRANSPORT HUB. Then above you saw them mocking at airline precautions and no fly policies. BAH
KENYA SLUMPING IN SPITE OF THEIR PRECAUTIONS
A STORY WORTH READING FROM THE FRONT LINES IN AFRICA
DOCTOR BESSLER-- A MAN WITH SOME NERVE-- ONE OF THE HEROES
No vaccines before the risk as in the case of typhoid and cholera.
AN AFRICAN ASKS QUESTIONS ON TWITTER
This is creepy and is food for thought:
1. Why are these #Ebola outbreaks suspiciously targeting the few experts in the field that we actually have in Africa?
2. The #Ebola "secret serum" given to Americans healed them, same thing given to an African doctor, but they died?
3. The man who managed to conquer #Ebola in Congo Prof J.J. Muyembe was sent to Liberia, right after that, there's an outbreak in Congo.
4. While Prof J.J. Muyembe is in Liberia, who is fighting #Ebola in Congo? I wont be surprised if he catches it in Liberia & never returns
FRIGHTENING VIDEO FROM RT
This shows that caring for Ebola patients is deadly. If and when Ebola reaches Europe and the USA we can expect to lose a lot of health care workers, first to Ebola, and second to those who panic and run.
COMMENT
This is running away with itself. I keep wondering if it will slow and recede, but not yet. If anything, it seems we have much worse days ahead for the world and Ebola.
2 Timothy 1:7 For God hath not given us the spirit of fear; but of power, and of love, and of a sound mind.