Here is the man (?????????) Joe Biden showing his true gender preference.
Check out the look on the cop's face. That boy could make mincemeat of Biden with his little finger if he tried. But, look at the Drill Sergeant in the upper right corner. He is saying to himself, "I will assign that yard bird to empty the dumpster and scrub it with a tooth brush tomorrow morning."
But, the guy in the middle background is priceless. He is the Democrat that is saying, "That is the limit. I am going to register as a Republican."
Here is a musical tribute to Joe Biden.
UPDATED LATER:
Back in about 2001 I was tuning a piano for a retired Secret Service Agent. I cannot identify him because I intentionally forgot his name to protect him from being bothered by any Federal entities. He had been the personal body guard of Jacqueline Kennedy, wife of President John F. Kennedy. He told me Jacqueline was far more promiscuous than her President husband. The former agent said that their first task of the day was to browse the White House looking for lingerie. He said that Jacqueline's underwear was scattered about generously. This was because she had immoral visits with other men than her husband while he was present in the White House. This means they "had an understanding," which was a good thing. John Kennedy told Pierre Trudeau, the Premiere of Canada that he had to have a woman at least every three days.
The secret agent told me that he did not trust any Presidents. He said the Democrats were sex maniacs, and the Republicans were mentally unstable, especially Richard Nixon. He said he never turned his back on Nixon. Lyndon Johnson was very promiscuous. The agent said they would hear over the PA system the announcement, "Mrs. Mildred Jones will be the guest of the Johnsons this evening." He said that President Johnson used married women, taking the advice of Benjamin Franklin.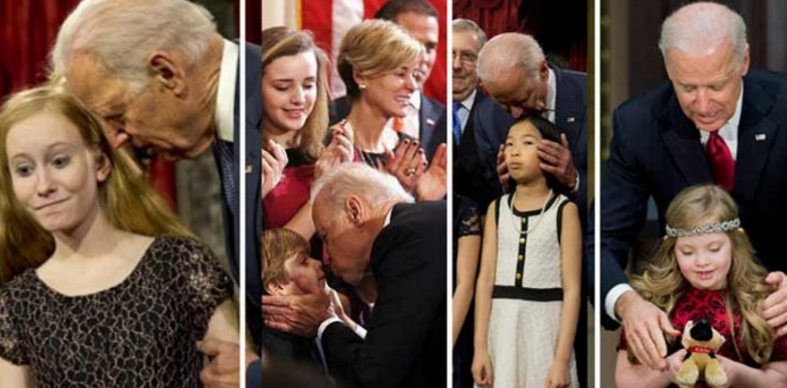 The day of the 2014 rally, speakers
gathered and took photos before
going on stage. Flores (right) is pictured
with Longoria and Biden before the
uncomfortable encounter.
We know well about Bill Clinton. He was a moral dog, using whores on his lunch break when he was Governor of Arkansas according to some reports. The only Democratic President, in recent years, who was not a morel disaster would possibly be Jimmy Carter. Even Barak Obama is reported to have been a member of a gay club in San Francisco called Men of the World. His "wife" appears to be a man from rather obvious physical observations. Obama slipped a number of times and called Michelle by the name Michael.
So, all we need next is Joe Biden to bus all the ladies in sight. I want you to read the following article by a lady who was highly placed in political circles and was bused by the Joe.
LUCY FLORES OF NEVADA TELLS HER STORY OF BEING BUSED BY BIDEN
Frankly, I believe the best thing that could happen to Donald Trump would be to have to run against Joe Biden for his second term. The stories that would come tumbling out would cause many Democrats around the USA to tremble, and women who are undecided would be repulsed by him. Joe would flame out gloriously. Then again, maybe the average Democrat will admire Joe for his lust in public. Maybe they are just that sexually perverted.
If the story about Trump preparing to try high level officials in the US Government by using a Military Tribunal is true, what made him abandon the plan? We have to wonder if Trump wimped out because he realized that those targeted would sing and squeal on others in Washington DC, and a third of our Government could end up on their way to Leavenworth. This would literally be the most powerful political earthquake in US history, and Trump may have simply gotten cold feet at the prospect of the mental and emotional shock his plan would cause to the American people.
It is also possible that Trump has skeletons in his own closet, and the Clintons or Obama knew about them and blackmailed Trump.
FINAL THOUGHT ON JOE BIDEN
It seems to me that the ongoing exposure of Joe Biden's pedophilia and assault on women will continue, and the Democrats will not dare nominate Biden to run against Trump in the next election. If Trump has the history of Joe's perversions, he will be able to destroy Biden and assure that he, Trump, wins the election. So, look for Biden to drop out of the race soon.
The next question is, is Bernie Sanders one of the pedo club also? If so, Trump may have the goods on him also.
One last observation. Hillary Clinton did such a lousy job of campaigning against Trump, from her extremely poor zeal to have rallies, to her poor attempts to get before the public, that I have to wonder if Trump threatened her with intelligence he had on her. Thus, she threw the election on purpose.