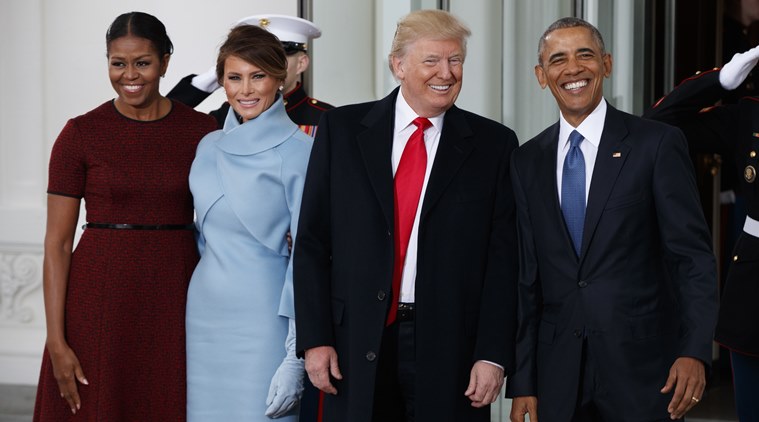 The things we feared did not happen. Donald Trump came into power with pomp and dignity.
I have a few observations:
1. Trump's speech was all about "WE" rather than "I" which we heard all the time from Obama. There was an amazing humility in this.
2. There was more prayer than in any former inauguration. This is hopeful.
3. President Obama behaved himself very well as a host and observer. We must give credit where credit is due.
4. I liked it that Bob Dole was seated along the path for exit so that so many good men would show him kindness, with Obama making the most notice of him.
5. I felt sorry for Bernie Sanders. He had a strange look on his face as he entered the Rotunda. "This could have been me if Hillary had not knifed me." Bernie would have made it a lot harder for Trump to win, and that aspect of the election was possibly the most wicked moment with Hillary.
6. I suspect that Franklin Graham will be the President's pastor in the future. The purple shirted Bishop had to give Trump a bit of admonition in his prayer. Cute.
7. It was fun to see Trump's grandkids present for the signing of Executive Orders. And, Trump made the signing merry hearted by handing off the pens to Congressmen who had an interest in various State Department officials.
8. It was uplifting to see the end of the Bush and Clinton Dynasties playing out. The glum looks on the Clintons say it all.
So, Donald Trump is now our President, and regardless of what we think of him in some of his life choices and ideology, we must pray that God will give America rest during his administration. Pray also that he will be restrained in going to war and making enemies the way George W, Obama and Congress have done. We have killed quite enough women and children in the Middle East.
1 Timothy 2:1 I exhort therefore, that, first of all, supplications, prayers, intercessions, and giving of thanks, be made for all men;
2 For kings, and for all that are in authority; that we may lead a quiet and peaceable life in all godliness and honesty.
3 For this is good and acceptable in the sight of God our Saviour;
4 Who will have all men to be saved, and to come unto the knowledge of the truth.
Paul clearly indicates that, if God answers our prayers for leaders by giving us peace, we are then obligated to use that time of peace in the nation to preach the Gospel of Jesus Christ to "all men."
Also, pray that President Trump can untangle the web of chaos Obama wove for him with last minute Executive Orders. This is the worst transition I have ever seen in that regard.