What is in the man?
No one knows.
But, we know he is lying when he says he will build a wall on the border. He will promote a bill in Congress for a wall. Some Representative or Senator will do it for him. That happens to be the way this limping lump of brick dust democracy works, And, what is left of our democracy may prove critical to America's survival if either Trump or Hillary are elected.
We seem to be headed for a Fascist on the Right, or a Fascist on the Left. Where are the men in the middle like Harry Truman, Dwight D Eisenhower, or Jimmy Carter?
Trump cannot build a wall. Trump, AND the House, AND the Senate, will build a wall if there is one. If the House or Senate go Democrat in 2016, there will be no wall.
So, where does the brash lying and arrogant style come from in Trump?
And, why do church house fools go for it?
President Obama has been a narcissist all his life according to his friends from school days. He has been a recreational liar all his life. But, Obama is also very unsure of himself. He has been a loser all his life. Being elected was not a win..... it was a tribute to rich White men whom Obama courted by means we should not discuss in a public forum. Obama holds back when a rush to victory is in front of him, whether in legislation or in war. He is running on low right now. He is folding.
But, Trump the narcissist is another animal altogether.
Trump has spent his life winning. He is filthy rich, and he has an empire he built himself. He is not a political insider by right in the royal blood line. He is a man who won on his own, and he knows it. He owes no one anything.
He will win again, or he will fire someone--
probably the Republican Party, or America itself.
So, what is it about Trump?
Here is a possibility-- FASCISM
The quotes are from a winner from long ago
in Germany..... a winner, but a raging beast.
Does Trump draw the same crowd as Fundamental Baptist evangelists? I am reminded of the Lutherans and the Roman Catholic bishops of Germany fawning over Adolph Hitler.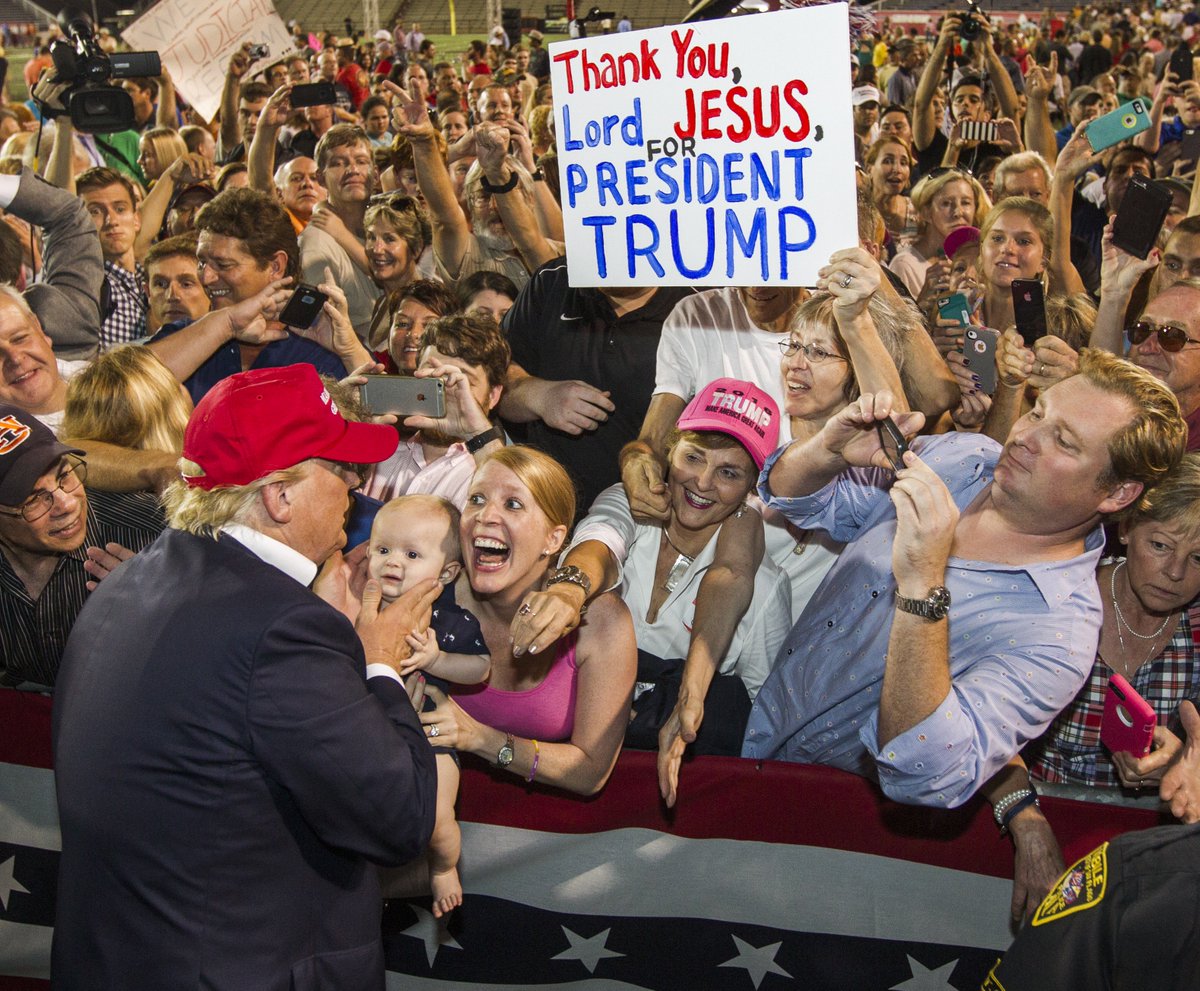 Note the blond spiritual whore below
hanging on Trump's arm.
I bet he got a rush from her which was less than godly.
Note all the prayer circle touching.
We must wonder which way the devils were moving.
The picture above, and this video, tell me Trump
is the idol of spiritual jack asses from Christendom.
And, note the look on his face.
It is arrogance, not reverence.
Preacher, if you exalt this pagan you are a damned fool.
Matthew 6:24 No man can serve two masters:
for either he will hate the one, and love the other;
or else he will hold to the one, and despise the other.
Why the grim and arrogant countenance?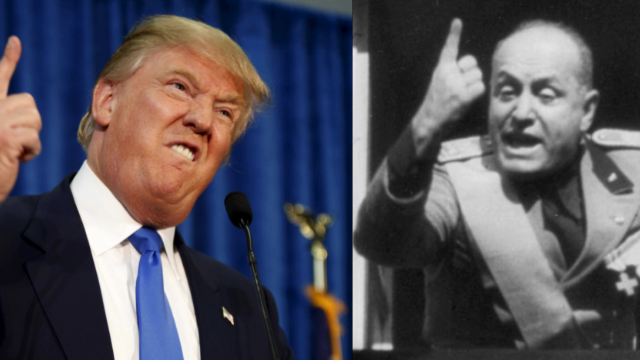 Note the bully factor, and the cavalier use of women:
FINAL VERDICT:
This man below is a Mormon, which makes me nervous. But, Glenn Beck is saying exactly what I am now thinking about Donald Trump. It was at first gratifying to hear Trump list the issues up front, but his manners, his potty mouth, his godless attitude, along with his lack of solutions, are very frightening. Who do I like now? Probably no one, but Ted Cruz is a lot more rational, and he is from Texas. Texans have a healthy attitude toward the outside, as in, "Don't Mess With Texas." Cruz does show zeal for the US Constitution, and he has stood against Obama more than anyone else.
UPDATE MAY 17, 2016


Ted Cruz has turned out to be a cereal liar, a womanizer, and a man willing to use filthy innuendos to attack his adversary. America is blessed to be done with him.




So, will you join the angry old man?
Where will the angry old man lead you?
Does the angry old man remind you of Jesus Christ?
Proverbs 14:34 Righteousness exalteth a nation: but sin is a reproach to any people.

Amos 5:13 Therefore the prudent shall keep silence in that time; for it is an evil time.
14 Seek good, and not evil, that ye may live: and so the LORD, the God of hosts, shall be with you, as ye have spoken.
15 Hate the evil, and love the good, and establish judgment in the gate: it may be that the LORD God of hosts will be gracious unto the remnant of Joseph.
Philippians 2:5 Let this mind be in you, which was also in Christ Jesus:
6 Who, being in the form of God, thought it not robbery to be equal with God:
7 But made himself of no reputation, and took upon him the form of a servant, and was made in the likeness of men:
8 And being found in fashion as a man, he humbled himself, and became obedient unto death, even the death of the cross.
9 Wherefore God also hath highly exalted him, and given him a name which is above every name:
When angry bold liars, and moral scum, are exalting themselves, will you join the mob and cheer them on?