North Korea launched its second successful satellite into orbit.
The first satellite went dead and never sent signals back to earth according to US officials, and the second one is also silent.
The assumption is the North Korea is telling the truth when they claim they just want to learn about the weather.
RIGHT????? And, the farmer hauled another load away.
So, if both the satellites happen to be weaponized with EMP nukes on board, then that explains why they are silent. They will never talk back to anyone.
We have a serious problem folks. Satellites that do not talk to us are either fails, or they are weapons sitting there ready to explode.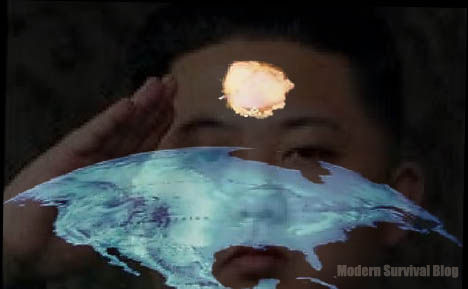 Satellite one has a polar orbit which takes it over the poles, and it passed over western Canada and Alaska. Satellite two passed over the plains states, and if it has an EMP, it could shut down the whole western half of the USA.
The reason the North Koreans do not send a satellite over the eastern USA may be because that is impossible from their launch point. But, you will see later that the orbits of these satellites track eastward, and this makes the plot a lot more deadly.
LINKS FOR THIS STORY:
FIRST SATELLITE ORBIT, 2012
SECOND SATELLITE LAUNCH STORY OF FEB 7, 2016
SECOND SATELLITE ORBIT AND COMMENTARY
SUPERSTATION95 REPORTS THAT THE SATELLITE WILL MOVE ORBIT TO PARK OVER KANSAS.
If this is true, it will be in a perfect position to EMP nuke the whole USA. The silence of both satellites is downplayed by the US officials, and they hint that this indicates the NK satellites are inferior junk. This could well be because we are sitting ducks now. There is nothing our people can do about this unless they have a killer missile that can take the North Korean satellite out. We may have already done that just as it went into orbit. But if not, the drama will not stop. And, any moment the whole USA could have a 90% technology shutdown, including the nation's power grid. This is the way history tells us that empires collapse. Some large crisis blow brings them down at a time when they are morally and culturally castrated.
THE WORLD LEADERS ARE SQUEALING WITH PAIN OVER THE NK SATELLITE
Why?
Answer: If North Korea hs EMP nukes on both their satellites, they have the world under blackmail. If the USA, EU, or UN call for an strike on North Korea, they would push the buttons and go out in flames while destroying the USA. UN sanctions will further slam North Korea into the corner, and they will eventually come out in rage and do whatever they have up their sleeve. Thus, rather than compromise with the devil, the West will insure their own disaster. Satellite one may well be orbiting over Europe at this time.
THIS WAS THE WARNING FROM FIVE DAYS AGO BY A MAN OF SERIOUS REPUTATION
Former Ambassador Henry Cooper – who was President Ronald Reagan's chief representative in the "Star Wars" initiative negotiations with the Soviet Union and SDI director under President George H.W. Bush – said North Korea is preparing its Sohae satellite complex for a launch on a southern trajectory, which is said to be a test.
TED CRUZ WEIGHTS IN, ALBEIT, A BIT NAIVE ABOUT OUR CHANCES OF REVERSING THE PROCESS ALREADY IN PLACE BY NK
With respect to North Korea and what we should do now, one of the first things we should do is expand our missile defense capacity. We ought to put missile defense interceptors in South Korea. South Korea wants them. One of the real risks of this launch, North Korea wants to launch a satellite, and one of the greatest risks of the satellite is they would place a nuclear device in the satellite. As it would orbit around the Earth, and as it got over the United States they would detonate that nuclear weapon and set of what's called an EMP, and electromagnetic pulse which could take down the entire electrical grid on the Eastern seaboard, potentially killing millions.
We need to harden the grid to defend ourselves, and we need missile defense to protect ourselves against North Korea. Editor: He need to give Ted Cruz credit for talking about the real threat. President Obama and all other officials are dead silent about the EMP nuke possibilities. The grid cannot be hardened because power companies would have to raise prices way up to pay for stand by transformers. They refuse to do that.
BACK HISTORY WHICH SHOWS THE TRACKING EASTWARD AND WESTWARD OF THE MK SATELLITE
These are two discussions by people with serious credentials. It seems that NK has the capability to do an EMP, and the USA has done nothing to stop them. In order to stop NK, and in order to prevent the total collapse of American life for many years, the US would have to nuke North Korea and take the risk of the world's nations screaming foul. We have an abject wimp for a President, and Obama is well known to have called for the reduction of America, so he may get his wish by default.
SECOND RELATED LINK
CONCLUSION:
Try to look at this from the demented mind of North Korean leaders. They, a poor and disheveled nation, have the greatest power in world history cornered and begging for mercy.

The USA may well be under total blackmail by North Korea. Our leaders will NEVER admit that. The only thing we can count on is that we cannot count on our American President and Military to keep a cool head. They have the conviction that the USA is the world's cop, and they will be scheming to find a way to overpower North Korea and kick their butt.
So, again, we are on our own. You need to do some very serious research into survival, and make all the arrangements possible to survive without ANY technology, including electricity, for up to two years.
Also, is there a harbinger that the US elite are about to grab all the wealth in the nation and go underground?
Yes, and it would be a bank holiday, during which, all the wealth in all banks (your deposits) would be gathered by the elite for future survival. Of course, like all of the elite of world history, they will find that US dollars are a big joke to the world after and EMP over Kansas.
But, you need to know that cash will be just as worthless to you and me.
It is not enough to read this blog post, and many other reports..... TAKE ACTION NOW.
Proverbs 6:6 Go to the ant, thou sluggard; consider her ways, and be wise:
7 Which having no guide, overseer, or ruler,
8 Provideth her meat in the summer, and gathereth her food in the harvest.
9 How long wilt thou sleep, O sluggard? when wilt thou arise out of thy sleep?
10 Yet a little sleep, a little slumber, a little folding of the hands to sleep:
11 So shall thy poverty come as one that travelleth, and thy want as an armed man.
There is no more wretched beggar than a soldier whose army is defeated of non-existent. If you are in the US Military, you need to know that after an EMP, and after your emergency supplies and pay are zeroed out, you will be a total beggar. Pity you boys in the Middle East. Those people around you, the ones who call you the Great Satan, will be the ones you end up begging from. If you are a submarine commander, sir, you need to set a heading for Fiji or Brisbane.
Finally, there is NO place in the Bible where the USA is found in prophecy. Presently, we see many factors of End Times prophecy being fulfilled in the Middle East. Putin may well be playing out the details in Ezekiel 38. THE USA IS IN THE WAY. So, God may well use a little crabby pootwaddle nation like North Korea to let America learn what he thinks of our big tough cussing God-blaspheming American leaders.
So be it. God be praised.