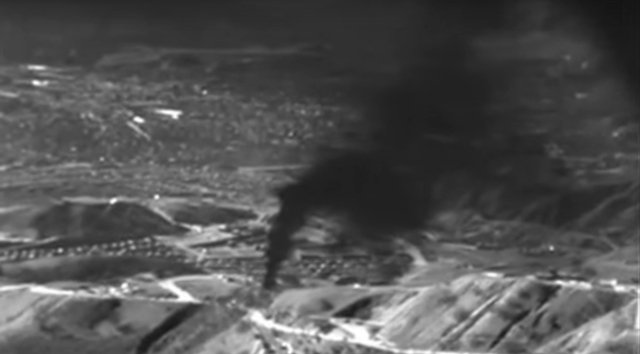 FROM FREEDOM OUTPOST ON PORTER RANCH GAS LEAK
"While resident complaints of feeling ill, vomiting and nausea have been chalked off by officials as the result of breathing in the natural gas, it is quite possible and increasingly likely that what they are experiencing is actually radiation poisoning."

I need to start out doing what editors do when they get something right.

YOU READ ABOUT IT FIRST HERE
MY FIRST POST ON RADIATION POSSIBILITY IN GAS LEAD This was based on Mike Van Nattan's conclusion that the nuke explosion in 1959 resulted in core fuel burning to the level of the gas field ten miles away.
MY SECOND BLOG POST ON POSSIBILITY OF RADIATION IN GAS LEAK
While the media is fixated on elections and fluff, Fukushima and the Porter Ranch gas leak continue to cover California with deadly radiation. The US Government is saying nothing, Governor Jerry Brown is down playing it because he is in collusion with the gas company, and the mainline media have said absolutely nothing.
This event is real cause for fear. The elite in high places want you to panic over ISIS coming to America and Climate Change. Both are dead ringers and are being used to desensitize the masses and asses in America.
So, the radiation level has now been determined by the University of California at Davis to be at the LETHAL LEVEL. You read that right, friend. It is not being assumed that the methane is not the cause of residents downwind being sick. They are sick because of the radiation, and they will die sooner of later. This is all because EVERYONE involved in this has lied and covered up the truth.
America is a murderous nation.
There are two horrors involved now.
1. Much higher than lethal doses of radiation will kill San Fernando Valley residents downwind from the leak. It will take time, maybe years, but once they have been radiated, they will get cancer and die. That is the history of this stuff.
2. If the gas ever ignites, and it easily could from lightning or a spark by workers trying to cap the well, the exploding cloud will fry hundreds of homes and the occupants at once.
So, you think I am making this up, right?
I don't blame you. It sounds like someone declared war on California.
SO, READ THE STORY HERE, AND WEEP FOR THOSE PEOPLE LIVING IN THE CLOUD
If you live in the San Fernando Valley, you need to MOVE AT ONCE. You are being fried by radiation, and you could be incinerated in a flash if the well ignites.
LISTEN TO THE AUDIO OF THE HAL TURNER SHOW
Feb. 3, 2016 95.1 FM NYC
Move the cursor to 46 minutes, 25 seconds for the Porter Ranch story.
YOU NEED TO LISTEN TO THIS.
This story shows how utterly helpless alleged emergency agencies are in the USA. We are totally on our own. All of you who wait for public officials to tell you when to respond to a crisis will be PART OF THE CRISIS.
The only issue I take with the radon explanation is that there could be also be radiation from the Nuke Plant explosion in 1959 ten miles away. But, that may never be proven either way.
I will stay on this as best I can.
If you have friends in San Fernando Valley, please tell them to leave at once.