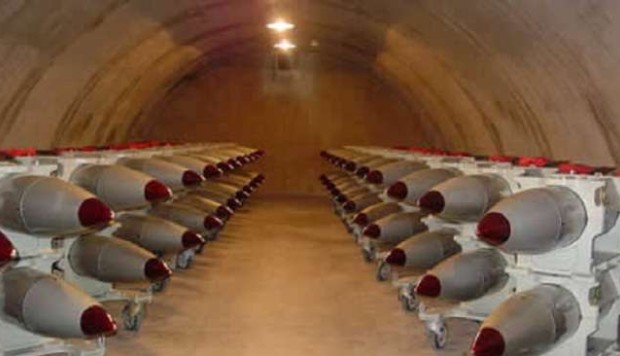 Incirlik Air Base was an operational centre of the attempted coup. It is also America's largest foreign stockpile of nuclear weapons.
All the US sources are softening the blow to US strategic issues. The fact is, the coup was headquartered in the Incirlik US Military Base. This then tells us something VERY obvious.....
THE US TRIED TO OVERTHROW ERDOGAN, AND THE OLD BOY KNOWS IT.
He turned off the lights at the base, and the US went very quiet and humble in the process. Our people have egg all over their faces now. US media today claim everything is back to normal. I do not believe that. "Normal" does NOT include diplomacy, and that is the story of all US policy worldwide. The nations of the world are getting fed up with our gross meddling.
I can absolutely predict that Putin will now have the upper hand in Turkey. Erdogan knows that Turkey has been targeted for destruction by the CIA and the US State Department. When this blows open, if it does, Obama and Kerry will be the dogs of the whole world. Europe will not be impressed that one of their member states was targeted for destruction. Would the CIA take out Angela Merkel the same way?
This was the other hand you were not watching as the Republican and Democrat Conventions were roaring along. That was supposed to cover the coup which would take out Erdogan. But, the coup failed.
The most terrifying thing is that the US has its largest store of hydrogen bombs stockpiled in this base. This is one of Putin's most frightening issues.
So, the question is, will Putin convince Erdogan to evict the USA and their bomb pile, or will the US keep trying to trash Erdogan? If Kerry convinces Erdogan to let the US stay in Turkey, it will result in Obama becoming the porch monkey of Erdogan.
It may well be that the legacy of Barak Obama will be that he totally destroyed all of America's diplomatic relations with all the world by the time he packs his grip and goes jogging down the road.
Also, Erdogan may very well know exactly what went down in Benghazi. It was the Turkish ambassador who had dinner with Chris Stevens in the Benghazi US consulate just twenty minutes before Stevens was slaughtered. Again, Erdogan may now drop the bomb on Benghazi, and Hillary may be yelling, "Incoming."
AND, AGAIN, VERY URGENT EVENT
POWER DOWN AT 9:55 EDT OVER MUCH OF NEW JERSEY AND MUCH OF NYC
This is developing. This could well be a local EMP done with new weapons for the purpose of knocking out power stations. It could also be Indian Point Nuclear Facility went down. If so, is the reactor going bad or out of control? This is developing NOW, and you heard about it here.
7/25/2016 7:56:47
PM
Notify NYC - Con Edison Power Outage
Notification issued 7/25/16 at 7:55
PM.nbsp; Correction: Con Edison has a power outage in the Great Kills section of Staten Island including ZIP codes 10308 and 10312.nbsp; Report power outages to Con Edison at 1-800-752-6633, or if you have a speech or hearing impairment, report outages to 1-800-642-2308. Please see http://
http://www.coned.com/
for more information.If you are affected by the outage, turn off all appliances, avoid downed and hanging power lines, and keep refrigerator and freezer doors closed to prevent food spoilage. Do not use generators indoors. If you are having a life threatening medical emergency and need immediate assistance, please dial 9-1-1.To view this message in American Sign Language (ASL), Arabic, Bengali, Chinese, French, Haitian Creole, Italian, Korean, Polish, Russian, Spanish, Urdu, or Yiddish, please visit:
http://on.nyc.gov/22lyehC
.
THAT AIN'T ALL FOLKS
Barzinji has been on the FBI's radar since 1987, when an informant told them that Barzinji was part of a network of brotherhood fronts to "institute the Islamic Revolution in the United States."